2014 Chapter Meetings
Happy New Year!
March 2014
Mar. 4th, Tues, Monterey, Round Table Pizza, 3120 Del Monte Bl., Marina
Mar. 5th, Wed, San Jose, 2102 Almaden Rd.,
Mar. 6th, Thurs,, Sacramento, 2840 El Centro Road
Mar. 7th, Fri, Fresno, 324 E. Shaw (Ramada Inn)
Mar. 11th, Tues, San Francisco, 4935 Junipero Serra, Colma (Round Table Pizza)
Mar. 13th, Thur., Oakland, 10806 Bigge Street, San Leandro (Union Hall)
Mar. 20th, Thur., 1120 North Main Street Manteca (Mountain Mikes Pizza)
Come share your ideas, concerns and suggestions.
From Steve's Desk:
Steve Kantoniemi, San Francisco County
Happy New Year to All
In 2013, we had a large increase in commercial high-rise work, retail and apartment complexes, as well as large technology companies setting up offices in San Francisco County, plus increasing construction in transportation hubs such as San Francisco Transbay Terminal, and San Francisco Central Sub-Way. These projects helped 2013 show a positive increase in all of our trade hours.
More good news is that 2014 is looking to be an even better year for construction trade hours. There are over 2 dozen large high-rise projects changing the San Francisco Skyline. Following is a list of some of the High Rise Projects currently going on:
Transbay Tower, 101 1st Street, 61-story, 1,070 foot tall building will be the tallest building on the west coast, and it will be directly connected to the Transbay Transit terminal.
181 Fremont, this 800+ foot tower has 54 floors which are a mix of office, retail and residential, as well as a Sky- Bridge connecting it directly to the Transbay Transit Center.
One Rincon Hill, Tower 2, 425 1st Street, this high rise at 50 stories will be just a little shorter than its older twin next door.
45 Lansing Street, 39 floors 330 luxury units, final height expected at over 400 feet.
Lumina, 201 Folsom Street, this is a sister project to the Infinity Towers across the street. The project will feature 37 and 42-floor towers along with two 8-floor Buildings, consisting of 669 residential units.

535 Mission, this 27 story glass tower will reach almost 400 feet, scheduled for completion by fall 2014.
Nema, 1401 Market ( 10th and Market ), This massive complex, when completed will consist of over 700 apartments, and feature towers of 10, 18, 19, and 37 floors.
222 Second, this 26-story office tower will feature set-backs on the 5th and 17th floors as well as 8,600 sq. ft. of open public space.
350 Mission Street, this is a 30-story tower that has already been leased out to Salesforce.com with a total of 440,000sq. ft.
Let us not forget about PLA projects in San Francisco that consist of all our trade work:
Treasure Island PLA = 1000s of Residential living units / Commercial and Retail
S.F New Warriors Arena Pier 30 and 32
S.F Mission Housing Development/ Emerald Cities.
San Francisco Unified School District = All Trades
Bay Area Headquarters Authority BAHA / 390 Main Street = All trades
S.F Transbay Transit Center Program / Connecting 7 different Transit Agencies / 11 different new High- Rises / 5 billion dollar PLA = All Trades.
Mission Bay PLA S.F / currently 10 large projects going on, with many more to start = All Trades
Cathedral Hill Hospital San Francisco / 300+ units / 2 parking garages = All Trades
Hunters Point Water front and Shipyard 20 year PLA Project / 1,000s of Residential units / Commercial and Retail. = All Trades.
Members when working out in the Workforce, work SAFE, work SMART, work GOOD. Always try to work with a positive ATTITUDE, keep in mind the rule of the 3 A's = It is your ATTITUDE, not your APPTITUDE, that will establish your ALTITUDE. I cannot stress to you all how many times I have been told by Contractors, Superintendents, and Foremen, when I ask the question ( why did you lay him or her off) the majority of the time I get the same answer BAD ATTITUDE!!
May you all find work and keep working and best of luck to all of you in 2014!!
Best Regards Steve Kantoniemi BAC Local 3.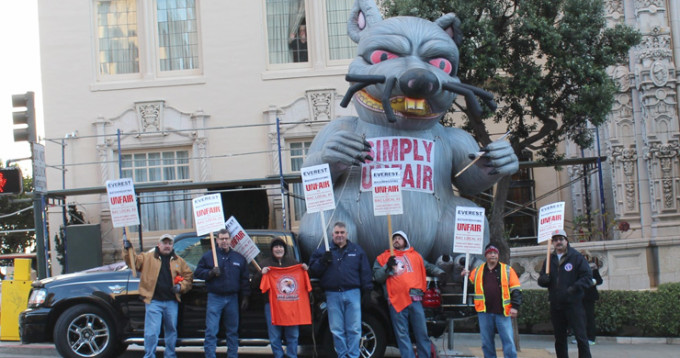 BAC LOCAL #3, CA is now on Facebook and Twitter. You can get our tweets to your phone by texting Follow baclocal3ca to 40404. You do not need a twitter account to get our "Tweets"; they will come to your phone. Or you can check on your home computer by setting up an account at www.facebook.com or www.twitter.com: Search for BACLocal3CA You can also "like" us from our website at bac3-ca.org/index.php
Out of Work List – All BAC active members please remember to call the Hall at 1-800-281-8781 whenever you're out of work to be put on the out of work list. This is important, especially, for one who is collecting unemployment benefits, or on self-pay. To qualify for self-pay, your name must be on the Union's out of work list during the time period you are not working. You may call in any day to be put on the out of work list but we have a weekly check in on Mondays before noon, to maintain your name on the list. Lists are updated every Monday afternoon; and then distributed to all Field Reps. If you are collecting unemployment insurance you must register as out of work with the union in order to qualify for benefits. The Employment Development Department (EDD) can call to confirm a members' registration as out of work. While this has not happened recently, we are obligated to use the out of work lists that are on file. If you have any questions regarding our policy about the out of work list please call us.
• Please notify the Union office at 1-800-281-8781 if you have any changes in your personal information such as; Address; Phone Number; or Change of Beneficiary.
• Important Dues Information – Please be aware that BAC Local 3 no longer accepts cash for dues or initiations. All payments must be by check, money order, Visa or Master Card.
• The following Administrators should be notified: if you have a change in your marital status or have a child. New dependents must be added within 30 days of qualifying event (marriage, divorce, birth or adoption of a child.)
For all Tile members; Allied Administrators at 1-888-877-8363;
For the Brick, Marble, PCC and Refractory members; BeneSys at 1-888-208-0250.
IN MEMORIAM
I am sorry to announce the passing of our Brother:
Anthony Meza, 16 CA • Bricklayer • 12/13/13 • 23 year member