2014 Chapter Meetings
Happy New Year!
February 2014
Feb 4th, Tues,  Monterey,  Round Table Pizza, 3120 Del Monte Bl., Marina
Feb 5th, Wed,  San Jose, 2102 Almaden Rd.,
Feb 6th, Thurs,, Sacramento, 2840 El Centro Road
Feb 7th, Fri,  Fresno, 324 E. Shaw (Ramada Inn)
Feb 11th, Tues, San Francisco, 4935 Junipero Serra, Colma (Round Table Pizza)
Feb 13th, Thur., Oakland, 10806 Bigge Street, San Leandro (Union Hall)
Feb 20th, Thur., 1120 North Main Street Manteca (Mountain Mikes Pizza)
Due to a holiday, San Jose, Sacramento, Fresno meetings are cancelled in January 2014!
Come share your ideas, concerns and suggestions!
From Dave's Desk:
I hope that you enjoyed the Thanksgiving Holiday with family and friends. I also hope that you are among the many members who have went back to work, as work hours in general have increased for the second year in a row. I am thankful for the increase in construction our industry is experiencing. Projections for the next couple years show that construction will continue to increase and provide jobs for current local 3 members, new BAC members, as well as ex-BAC members.
The work picture looks good in the Bay Area, in San Francisco and the South Bay in particular. The San Francisco skyline continues to change as multiple high-rises' continue to be built. As the 49er Stadium nears completion, the Earthquakes Stadium is coming out of the ground, as well as multiple high tech projects in the South Bay. If you are interested in Refractory work, you need current RSO (925-335-5000) and TWIC cards. (866-347-8942, www.tsa.gov/twic) Make sure that you are on the list if you are available for dispatch. Field Reps are working hard to cover local 3's craft jurisdiction and 46 county geographical jurisdictions. Please continue to notify your Field Representatives of non-union activity.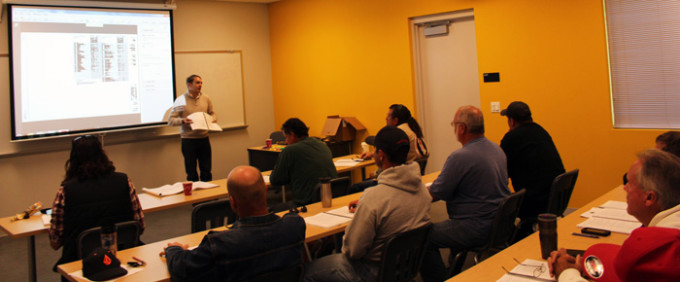 I would like to thank the following members who recently took the time out of their schedules to attend our Level 1 Supervisor Certification Program (SCP) Foreman Training. I encourage all BAC Journeymen to continue taking advantage of Journeyman Upgrade classes to increase your skills and share knowledge. Recent SCP attendees:
Ruben Audelo, Anthony Bissig, Honorio Casas, Stuart Dando, Agostino Di Grazia, Henry Diaz, Cody Eberle, Steve Gamboa, Pete Garcia, Anatoli Gerchberg, James Hansen, Tom Hurley, Wayne Jordon, John Martinez, Juan Ornelas, John Paradiso, David Pierson, Robert Robles, Martin Samboni, Tyler Simpson, Jeff Smith, and Kirk Smith.
The next Rain Screen Training course is scheduled for January 18, 2014. Please contact Steve Kantoniemi if you are interested in attending.
The 15th Annual BAC 3 Crab Feed will be held on January 25, 2014 in Vallejo. The Annual Crab Feed is the only fund raiser for the Sullivan-Kraw Scholarship Fund. The proceeds from this event directly impact the amount and number of scholarships awarded to families of BAC 3 members. Please mark your calendar and watch your mail for more information.
Please refer to the calendar above for Chapter meeting dates as some will be cancelled due to the Holidays. We look forward to seeing you at meetings to share information and ideas.
I wish you and your family a Merry Christmas and a Prosperous New Year.
Work safe and honor all pickets.
– Dave Jackson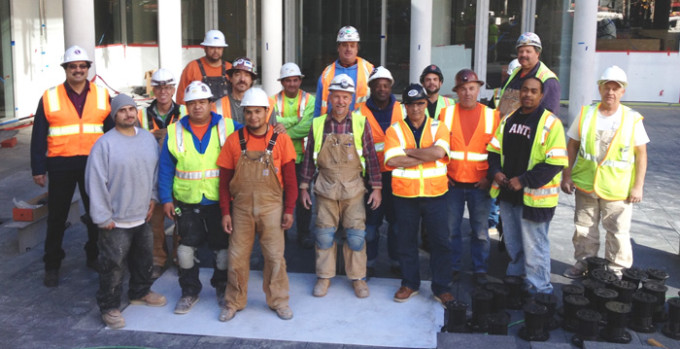 BAC LOCAL #3, CA is now on Facebook and Twitter. You can get our tweets to your phone by texting Follow baclocal3ca to 40404. You do not need a twitter account to get our "Tweets"; they will come to your phone. Or you can check on your home computer by setting up an account at www.facebook.com or www.twitter.com: Search for BACLocal3CA You can also "like" us from our website at bac3-ca.org/index.php
Out of Work List – All BAC active members please remember to call the Hall at 1-800-281-8781 whenever you're out of work to be put on the out of work list. This is important, especially, for one who is collecting unemployment benefits, or on self-pay. To qualify for self-pay, your name must be on the Union's out of work list during the time period you are not working. You may call in any day to be put on the out of work list but we have a weekly check in on Mondays before noon, to maintain your name on the list. Lists are updated every Monday afternoon; and then distributed to all Field Reps. If you are collecting unemployment insurance you must register as out of work with the union in order to qualify for benefits. The Employment Development Department (EDD) can call to confirm a members' registration as out of work. While this has not happened recently, we are obligated to use the out of work lists that are on file. If you have any questions regarding our policy about the out of work list please call us.
• Please notify the Union office at 1-800-281-8781 if you have any changes in your personal information such as; Address; Phone Number; or Change of Beneficiary.
• Important Dues Information – Please be aware that BAC Local 3 no longer accepts cash for dues or initiations. All payments must be by check, money order, Visa or Master Card.
• The following Administrators should be notified: if you have a change in your marital status or have a child. New dependents must be added within 30 days of qualifying event (marriage, divorce, birth or adoption of a child.)
For all Tile members; Allied Administrators at 1-888-877-8363;
For the Brick, Marble, PCC and Refractory members; BeneSys at 1-888-208-0250.
SERVICE AWARDS (JAN 2014)
25 year members: Harold Ortega, Franky Teixeira
Congratulations to you all for your many years of service.
IN MEMORIAM
I am sorry to announce the passing of our Brother:
William Strate, 16 CA Bricklayer 11/10/13 60 year member
………………….