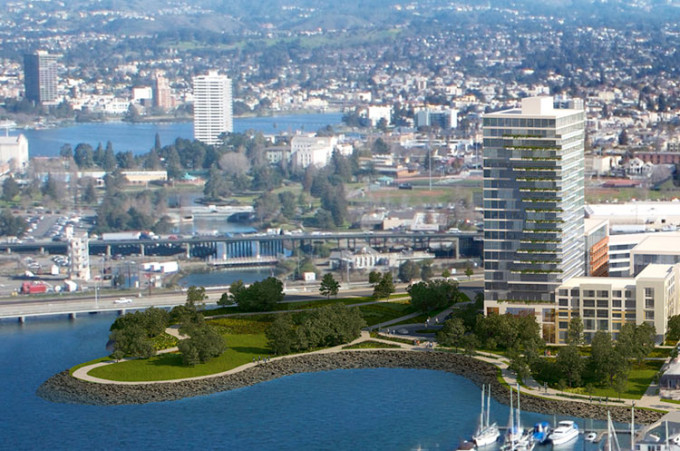 Brooklyn Basin Groundbreaking Ceremony Marks New Era for Oakland Waterfront
March 2014
Sustainable, mixed-use community to create estimated 10,000 jobs
Signature Development Group and Zarsion America held a groundbreaking ceremony for the Brooklyn Basin development March 13. The Oakland-based developer and Beijing-based Zarsion Holdings Group Co. Ltd reached a deal to co-develop "a vibrant new waterfront community" on 65 acres of waterfront property on the Oakland Estuary just south of Jack London Square.
California Governor Jerry Brown estimated that Brooklyn Basin would deliver 10,000 short- and long-term jobs. The construction work is covered under a Project Labor Agreement as well as a Community Benefits Agreement hammered out between the City, the developer, a coalition of community organizations, and the Building Trades Council.
Building Trades Council of Alameda County Executive Secretary Andreas Cluver said, "The PLA will ensure that the jobs will be good paying jobs and there will be apprenticeship opportunities that provide pathways for careers in construction."
Signature Development's spokesman Paul Nieto said the CBA includes a commitment for the developer to spend $1.6 million on job training to prepare workers for union apprenticeship programs as well as requirements for local hiring and local apprentices.
The first phase of construction, to cost $500 million, will consist of environmental remediation and clean up, site preparation and infrastructure improvements such as building streets and installing utilities, water and sewer lines. Construction of the residential units and retail components will start by early 2015.
When completed, Brooklyn Basin will feature more than 30 acres of new city parks and publicly accessible open space. More than 3,000 residences in a mix of types and densities—including apartments, townhouses, lofts and condominiums—will be built as part of the $1.5 billion development. The development is planned to meet LEED or Green Point Rated standards for sustainability.
The waterfront community will encompass 200,000 square feet of retail space, the renovation of the Clinton Basin and 5th Avenue marinas, preservation of a portion of the historic Ninth Avenue Terminal and restoration of wetlands. The shoreline improvements and land use plan also anticipate sea level rise. The neighborhood will also link with the San Francisco Bay Trail and eventually connect to Lake Merritt via bike and pedestrian pathways.
"Brooklyn Basin is a key component to the downtown and waterfront revitalization effort that's occurring in Oakland," said Michael Ghielmetti, President of Signature Development Group, the project's lead developer. "We want people to relish the lifestyle that these parks, open spaces, marinas and event spaces will provide."
He added, "Brooklyn Basin is the culmination of years of planning and community input and will revitalize this part of Oakland's historic waterfront." Ghielmetti said that after more than 12 years of planning, the world-class redevelopment will transform a neglected, 64-acre industrial area into a lively new residential neighborhood. The first phase of homes will be available in 2016
Oakland Mayor Jean Quan described Brooklyn Basin as "the largest approved, mixed-use master plan in the city." She said the groundbreaking was not just a milestone for the developers, but all of Oakland and that the development "will be an economic boon to the city and the region. Our history and future is on the waterfront," Quan said
Signature was chosen as the master developer for the area in 2001. The original Oak to Ninth Environmental Impact Report was challenged and then revised. It won approvals from the Bay Conservation and Development Commission and the City in 2006, but was then stalled by the economic recession that hit the construction industry hard starting in 2008. The announcement in April 2013 that Zarsion Holdings would invest in the project enabled the developers to start construction. The developers finalized the purchase of the site from the Port of Oakland for $18 million in June of 2013.
"Oakland has a lot of potential. Some people were a little bit worried about the city, but that's why we are here," said Arthur Wang, president of Zarsion America Inc., the division of Zarsion managing the Brooklyn Basin investment. "We want to contribute to this community."
"We're not creating new waterfront land anymore, so we saw this as a unique piece of property in a marketplace perpetually constrained by supply," Signature's Ghielmetti said. "This notion that we're going to take antiquated and dilapidated industrial land and repurpose it for the 21st century is a proven model."
Other speakers at the groundbreaking event March 13 included Weixun Shan, Chairman of Beijing Zarsion Holdings Group, Consul General of China Nangshang Yuan, Oakland City Council President Pat Kernighan
For more information, visit www.BrooklynBasin.com.