October 16, 2014
Diverse Coalition Speaks Out For Measure BB — a Transportation Plan for the Future
Labor unions, business, environmental groups, social justice organizations, senior advocates, and the faith community all unite in supporting Measure BB.
Measure BB, the transportation measure on the November 2014 Alameda County ballot, has attracted widespread support from an unprecedented coalition of supporters— including labor, business, social justice organizations, environmental groups, senior advocates, the faith community, and all 14 of Alameda County's city governments.
Measure BB would reauthorize and extend Alameda County's transportation sales tax Measure B, originally passed by voters in 2000. If approved, Measure BB will define the
next generation of transportation in Alameda County—funding critical BART and transit upgrades and service, and keeping transit affordable for seniors, youth and people with disabilities. Measure BB also funds repairs and upgrades of local streets and roads, reducing traffic, and provide infrastructure for transportation alternatives like biking and walking.
At a rally and press conference in Oakland October 16, a diverse group talked about why passing Measure BB and improving transportation is critical.
Measure BB will create thousands of high quality jobs in Alameda County
The original Measure B funded many projects that created good paying construction jobs as well as funding improvements and expansion of services for AC Transit. Projects like the BART-Oakland Airport Connector and the extension of BART to the Silicon Valley have created hundreds of local construction jobs. Most of the transportation infrastructure work is done union, and other projects that will benefit from the funding are covered under Project Labor Agreements.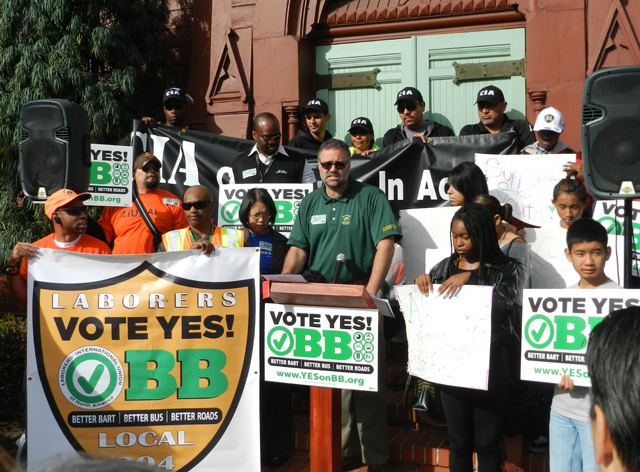 Andreas Cluver, Secretary-Treasurer of the Alameda County Building and Construction Trades Council said, "The building trades are very invested in Measure BB—and not just because of the good construction jobs it will create. It will generate economic investment that helps create more jobs and benefits the region. It is a win-win for everybody—business, labor, the environment, seniors, and youth." Cluver said four of the main affiliates of the Building Trades Council were strong supporters of Measure BB—the Laborers, Operating Engineers, Carpenters, and Teamsters. Many union members attended the rally.
Laborers Local 304 Business Manager Fernando Estrada said, "We can't wait for projects to be funded. We need to pass Measure BB." He noted that Measure BB will create 150,000 jobs and will take care of roads and improve the transportation infrastructure. In addition to jobs in construction, jobs in transit operations and maintenance, manufacturing, and professional, scientific and technical services will be created.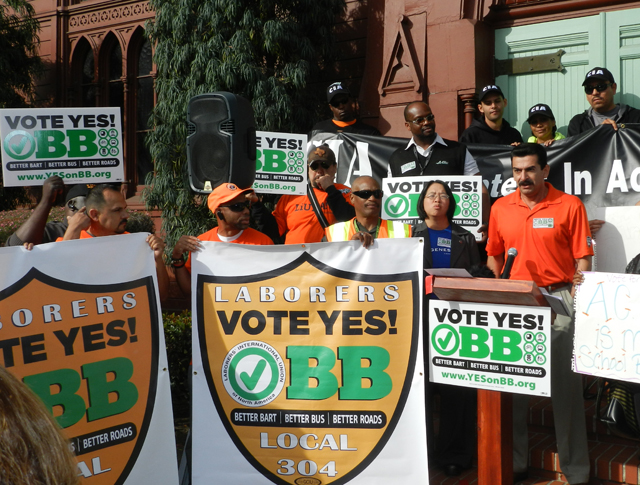 Measure BB projects will have requirements for local contractors and local workers, ensuring that residents and businesses in Alameda County benefit. Direct spending from Measure BB will yield $20 billion in total economic activity in the Bay Area.
Doug Bloch, Teamsters Joint Council 7 Political Director, said Teamsters drive the Paratransit buses and maintain rail lines, as well as drive cement trucks to construction sites. "Those are good paying jobs in Alameda County that Measure BB will support," he said. Bloch noted that some of the AC Transit buses are also built by Teamsters in Alameda County.
Students, Seniors Join Business, Environmental, and Faith-based Groups for Measure BB
Mary Lim-Lampe, Lead Organizer with the faith-based group, Genesis, said, "Having the Sierra Club signed on as a passionate endorser of this measure right next to big businesses, labor, bike advocates, youth advocates and more is amazing." She said one reason her organization supports Measure BB is that it provides funding for youth bus passes.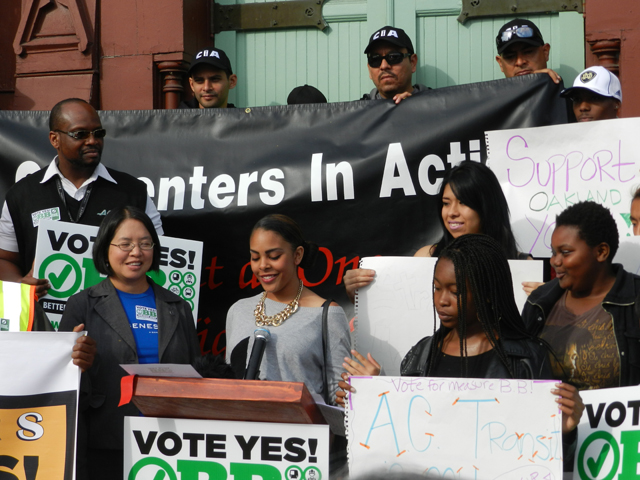 Measure BB will expand BART, bus and commuter rail for reliable, safe and fast services, including BART expansion and improvements within Alameda County. It will keep fares affordable for seniors, youth and people with disabilities by funding senior shuttles, vans and services that help keep seniors independent, and student transit passes to ensure youth can afford to get to school.
A group of students from the Emiliano Zapata Street Academy held signs in support of the measure. Sophomore Alicia Oliver said she takes AC Transit to school and to work and that the cost of riding the bus can be an economic hardship for her family. "The youth transit pass in the measure will allow me to get to school everyday without bursting my parents' budget," she said.
"The Sierra Club endorses Measure BB because good local transportation is good for the environment and the quality of air we breathe," said Igor Tregub, Executive Committee Member of the Sierra Club. "Measure BB tackles two of the most dire crises we face—climate change and economic inequality." Tregub pointed out that even though Alameda County's population is projected to increase over the next few decades, the amount of vehicle miles driven would decrease if Measure BB passes. "Without BB, we will continue putting more greenhouse gasses into the air," he said. "Measure BB will make it easier for people to get out of their cars, and by reducing bus fares it addresses income disparity. It is a smart plan for Alameda County that expands BART and bus services and keeps transportation affordable and accessible for all."
"All of us know the importance of a working transportation system for our local economy and our quality of life, and we see the challenges Alameda County faces with growing congestion and declining funds for transportation," said Barbara Leslie, President and CEO of the Oakland Metropolitan Chamber of Commerce. "And we were all together at the table creating this transportation plan through Measure BB that will be the solution for Alameda County for decades to come."
Representatives of Bike East Bay, the League of Conservation Voters, and United Seniors also spoke at the rally.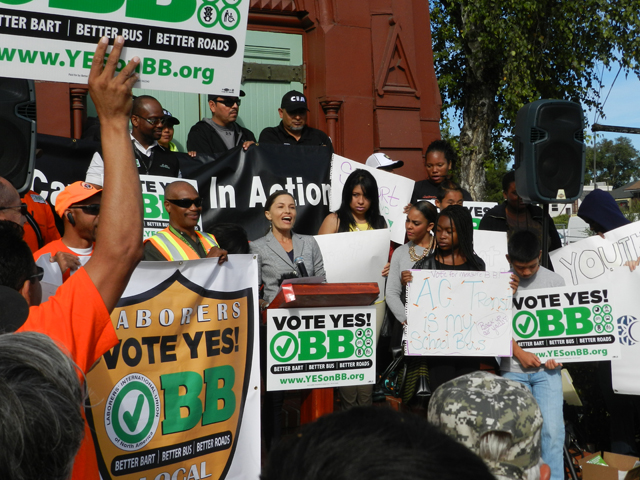 Measure BB is endorsed by the Building and Construction Trades Council of Alameda County, Alameda Labor Council, League of Conservation Voters of the East Bay, Bike East Bay, United Seniors of Oakland and Alameda County, the California Alliance for Jobs, the Greenbelt Alliance, LiUNA Local 304, the Sierra Club, and the Oakland Chamber of Commerce. Every city council in the county has unanimously endorsed this measure.
To learn more about Measure BB, go to www.yesonbb.org.
Passing Measure BB is a priority for the Building Trades Council, and volunteers are needed for phone banks and precinct walks to pass the measure November 4. Please contact Christine Garrett at 510-430-8664 x16 or [email protected] to volunteer and for more information.