The Board of Directors of the East Bay Municipal Utility District (EBMUD) voted unanimously Feb. 11 to authorize the development of a Project Labor Agreement for the construction work on the Chabot Dam Seismic Upgrade project. Several dozen members of building trades unions attended the meeting to support the plan for a PLA.
EBMUD's water service area spans 332-square miles in Alameda and Contra Costa counties, providing high-quality drinking water for 1.3 million customers. The agency has many projects in the planning stages, with several slated to go out to bid this year, and more in 2015. EBMUD is planning seismic upgrade work on the dry side of Chabot Dam and on the dam's outlet tower. Chabot Dam was built in 1874, creating Lake Chabot as a reservoir, and retrofitted in 1980. The agency says that additional work is required at this time because a small portion of surface fill added to the bottom of the dam in the 1880s could cause the dam to settle approximately three feet in a major earthquake. The $15 million project is intended to strengthen the dam.
EBMUD Engineering Manager Jimi Yoloye presented the recommendations of staff to begin the process of negotiating a pilot PLA with the Building Trades Council of Alameda County. He noted that along with requiring payment of prevailing wages and upholding labor standards, PLAs can also include social justice components, such as local hiring goals. He said staff had studied some of the PLAs that other agencies have enacted and noted that some have agency-wide PLAs and others work out PLAs on a case by case basis. He said a PLA for the Chabot Dam Seismic Upgrade project would enable the agency "to gain experience in the cost and benefits of using PLAs." Yoloye noted that EBMUD had pursued adopting a PLA in 1999 for two projects but did not complete the PLA process. He added that there is sufficient time to develop a PLA during the planning and design phases of the project before it goes out to bid next fall. Following Board authorization to develop the PLA, the next steps would be selecting a consultant to help prepare PLA negotiating principles and then negotiating and preparing the PLA document for Board consideration.
Board member Franl Mellon pointed out that the Board did not complete the process of developing a PLA in 1999 because the Bush Administration had outlawed PLAs that year; the ban on PLAs was rescinded by President Obama when he took office in 2009.
Board member Doug Linney said he would support the PLA and that he assumed that if the pilot PLA went well, the agency could use it for other PLAs on individual projects or for an agency-wide agreement. He noted that all the construction projects for EBMUD already pay prevailing wages and comply with master agreements with building trades unions.
EBMUD General Manager Alexander Coate said that the pilot PLA could provide a template and general principles but their would be differences in the type of work performed on different projects—some with more trucking required, some with more mechanical work or cement work.
Several Building Trades members spoke in support of a PLA. Rachel Bryan of IBEW Local 595 said she was an Oakland native who had graduated from the Cypress-Mandela program and gone from union apprentice to journeylevel electrical worker. "I' here to support a PLA because PLAs changed my life," she said. "Working under a PLA provided me a good paying job with benefits."
Local painting contractor Derrick Barrett said he strongly supported a PLA. "I've been in business for 20 years," he said. "For 16 years I was non-union and then four years ago I heard about some PLA projects. I was skeptical at first but I became a signatory contractor to District Council 16. Since then, I have gone from having just eight employees to having up to 40 and with an experienced workforce I can bid on bigger jobs." Barrett said he was proud that he could provide jobs that paid a living wage so his employees could afford to live in the Bay Area.
Darlene Best, a small contractor and member of the National Electrical Contractors Association said that, "We believe it is good policy to support the building trades; they provide skilled workers through the apprenticeship programs. A PLA helps to guarantee the continued payment of prevailing wages."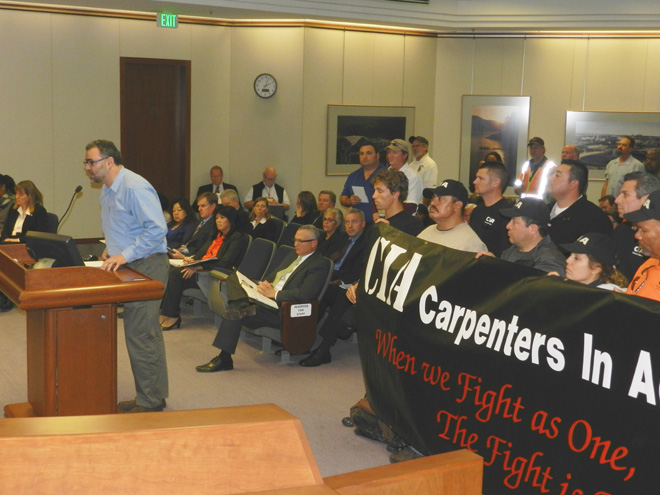 BTCA Secretary-Treasurer Andreas Cluver said that many PLAs include all contractors, but that requirements for well-trained apprentices and payment of union wages benefits workers and the agency. He said a PLA is supported by the building trades unions as well as the American Federation of State, County and Municipal Employees, Locals 444 and 2019 that represent EBMUD employees. Cluver said that a pilot PLA for the Chabot Dam could be easily transferable to other projects. "We have negotiated dozens of PLAs with different agencies, cities, school districts, and Alameda County," he said. "All have extended their PLAs, which we like to call Community Workforce Agreements. They have been successful." Cluver went on to stress that once the agreement is negotiated, it should serve as the model or template for and Agency wide agreement or policy.
After public comment, the Board discussed the proposal to begin looking at a PLA.. Board President Andy Katz said he strongly supported a PLA that would have local hiring and social justice components that "provide real benefits to the community and with workforce development." He said a pilot PLA would help EBMUD "explore the long term use of PLAs." He commented that "we have had problems with reports from non-union contractors not paying prevailing wages."
"A PLA will provide career opportunities through apprenticeship programs and benefit the district and the community," Katz said.
The Lake Chabot dam project is one of many that are now in the planning stages. Among the projects EBMUD has planned are the Summit Reservoir Replacement and West of Hills Northern Pipelines projects in Berkeley, the Almond Pumping Plant Replacement and South Reservoir Replacement in Castro Valley, the Diablo Vista Pumping Plant Replacement in Lafayette, the 39th Avenue Reservoir Replacement in Oakland, Happy Valley Pumping Plant and Water Treatment and Transmission improvements in Orinda and Moraga, and several Recycled Water Programs around Alameda County. The projects range in cost from $400,000 to $15.5 million.