FAA Dedicates New Control Tower at Oakland International Airport
Jan. 2014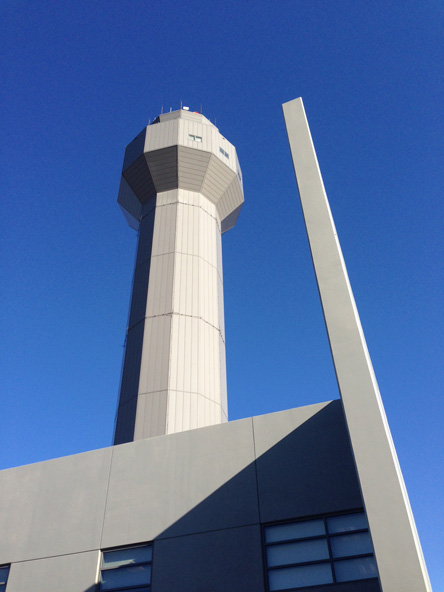 The U.S. Department of Transportation's Federal Aviation Administration (FAA) dedicated a new, 236-foot-tall, environmentally friendly airport traffic control tower at Oakland International Airport November 22.
"This Recovery Act project enhances safety for travelers at the Oakland Airport, while also helping the environment," said U.S. Transportation Secretary Anthony Foxx. "The Obama administration is committed to investing in our nation's aviation infrastructure to create good-paying jobs and keep the U.S. competitive in today's global economy."
A $33.2 million American Recovery and Reinvestment Act (ARRA) grant helped pay for constructing the tower and a 14,000-square-foot base building. The grant was the FAA's largest single ARRA award.
"This modernized, taller tower gives controllers dramatically better airfield views, which helps enhance safety," FAA Administrator Michael Huerta said. "The tower also includes a host of green features that make it one of the FAA's most energy-efficient and environmentally friendly structures."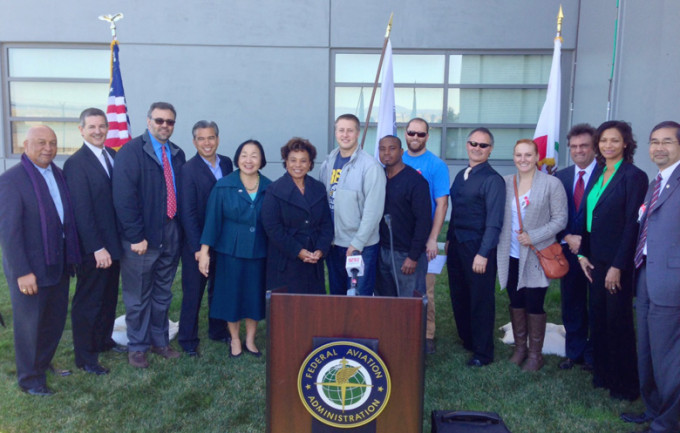 The U.S. Green Building Council recognized the tower's many green features by awarding it a coveted LEED Gold environmental rating.
The new tower's environmental benefits include:
• Solar panels on the roofs of the base building and parking structure that will provide enough power to meet the facility's approximate daytime needs on a sunny day.
• An underground, geothermal system that will provide heating and air conditioning for the facility. Because the underground temperature remains constant at around 60 degrees, it will take less energy to heat and cool the building.
• An underground water storage system that will capture rain runoff from the building roof and provide all of the irrigation for landscaping, consisting of drought-tolerant plants, during the dry summer season.
• A light-colored roof that will reduce the amount of heat that seeps into the building by deflecting solar heat back into the atmosphere.
The new control tower replaces two air traffic control towers that served Oakland International Airport for more than 40 years.
A 158-foot-tall tower on the southern portion of the airfield was built in 1962 as a part of a terminal expansion project. In 1972, construction of a large hangar blocked some views from the south tower, requiring the Port of Oakland to build a second tower to handle traffic on the north runways.
The total cost of the new tower, including site preparation, electronics, air traffic control equipment, utilities, and installation of equipment was $51 million. Tower construction was completed ahead of schedule and about $2 million under budget.
Oakland tower controllers handled more than 210,000 takeoffs and landings in 2012.
Union contractors on the project include Devcon, ACCO Engineering, Westco, and Schuff Steel.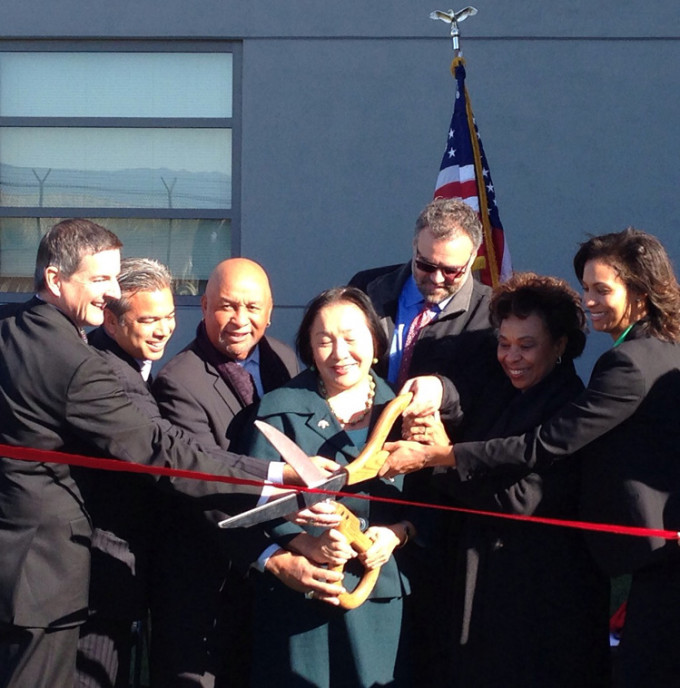 BTCA Secretary-Treasurer Andreas Cluver joined FAA officials, Rep. Barbara Lee, Oakland Mayor Jean Quan and other dignitaries to cut the ribbon at the dedication ceremony.