County Supervisor Wilma Chan Says Jobs and Families are Top Priorities
Dec. 2013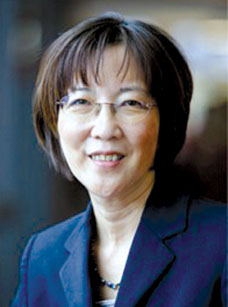 Wilma Chan serves as the Alameda County Supervisor for the Third Supervisorial District, which includes the cities of Alameda and San Leandro; a portion of the city of Oakland, including the Chinatown, San Antonio, Fruitvale and Melrose areas; the unincorporated communities of San Lorenzo and Hayward Acres; and a portion of the unincorporated community of Ashland.
Prior to her current term on the Board of Supervisors, Ms. Chan served in the state Assembly, where she was the first woman Majority Leader of the California State Assembly. She represented Oakland, Alameda and Piedmont in the State Assembly from 2000-2006. Prior to her election to the Assembly, she was elected twice to serve on the Alameda County Board of Supervisors after completing a term on the Oakland Board of Education. As a Supervisor, Ms. Chan wrote the strategic plan to keep the County Medical Center open and formed the Alameda County First Five Commission (Every Child Counts). She implemented a citizenship program with the passage of welfare reform and formed the Alameda and San Leandro Youth collaboratives. She has worked on healthcare reform projects in Alameda County, including an expansion of health services at the Peralta Community Colleges.
Recently, she led the effort to save San Leandro Hospital—brokering a deal in which the hospital operator Sutter Health will give the endangered hospital to Alameda County Healthcare System along with a $22 million subsidy, saving the emergency room, jobs and the health care safety net. Supervisor Chan also led the Task Force that successfully worked out he first county-wide Project Labor Agreement between the County and the Building Trades for construction projects in the County over $1 million.
The Journeyman interviewed Alameda County Supervisor Wilma Chan October 23 about her priorities for the County and her thoughts about on the recently-adopted county-wide Project Stabilization Agreement, affordable housing development, and working with Sacramento.
Journeyman: What are some of your priorities on the Board of Supervisors, particularly that would be of interest to the Building Trades unions?
Wilma Chan: The County is concerned about the economic viability of the County, which means the creation of good paying jobs. That's one aspect of it and one of the reasons I worked with the Building Trades on the Project Labor Agreement for the County that we finally finished in June.
In addition to that, I am also concerned with family issues—health care and getting people signed up for health care. But I think the most relevant thing is getting the County to come back economically, because with all the state and federal budget cuts we can't rely on program funding anymore and have to create a strong economy within the county.
Journeyman: In 2011, the state "realigned" some services back to the County level, including moving some prisoners from state to county jails. While the idea of local control has been supported, the issue of whether counties and municipalities would have enough funds to provide services once done by the state is still problematic. What are your thoughts the realignment of services from the state to the county and what are the impacts?
Wilma Chan: In general, we don't have an argument with local government having more of a role in some of these programs, but historically—going back to the 1990s—when services have been realigned to the County, the funding stream either isn't assured over a long period of time and/or we don't get enough money. For instance with the prisoner realignment, the rate the state was getting per prisoner was far above what they gave the counties, on a person-to-person basis. There's nothing wrong with having decisions being made locally and closer to the people, but we have to make sure that it's not just a cost savings to the state and then we don't have the money to sustain the programs; that's been the history.
Journeyman: So realignment and dealing with how programs now being handled locally are funded is still a work in progress, since it's only been in effect for about a year or two, and will take some time to see how it balances out and how to advocate to the state for more funding
Wilma Chan: Yes, like on the prison realignment when they sent a lot of prisoners down here, the first year after realignment we were severely under-funded in Alameda County, but we did some successful lobbying and the amount of revenue went up. Also, the Proposition that was passed, Prop 30, helped guaranteed a funding stream for that program. It's not exactly clear where that will come from so it is a work in progress.
We are still a little wary because the history has shown that when programs come down here, people don't pay too much attention to them at the state level.
Journeyman: Do you feel like your experience as a former member of the Assembly—having connections there and knowing how the system works—helps you to be an advocate for local programs and services?
Wilma Chan: Yes, it absolutely helps to have the experience of being in the State Assembly. I do have extensive contacts in Sacramento, and understand first hand how decisions are made up there and what they take into account. Also how to have a dialogue so they understand what we need down here.
Journeyman: I interviewed Rob Bonta a few months ago and asked him how having the local experience helped him in Sacramento—knowing how the state budget votes affect the local community, for example. What are your thoughts on this?
Wilma Chan: I think it's good to have a broad range of experience; most of the people in Sacramento do come from local offices—city councils, or school boards, or other local government—so they do have an understanding of how state policies impact locally. There are different points of view when you are sitting locally or sitting at the state. I'm lucky because I've had local experience and then in the state level and then came back to the local government after seeing Sacramento work.
It's important to have partnerships between the state and counties or cities, and have a dialogue, because people do have different points of view depending on where they sit.
Journeyman: For the Building Trades, the first project to be done under the PLA with the County is for the San Lorenzo Library. Can you tell us a little about that?
Wilma Chan: It's an addition to the San Lorenzo Library in my district that will double its size. It has been a work in progress for several years. It was a good opportunity for me as head of the task force on the PLA to be able to have the first project be in my district. I think that's great.
Journeyman: Yes, that is great. When will it start construction?
Wilma Chan: We are supposed to break ground early next year, maybe January or February. Right now we are in the process of finding space to temporarily move the library to so we don't have to close it down during construction. We have gone through the construction bidding already so we expect to break ground early next year.
Journeyman: Why was that important to you to be leading the effort for a county-wide Project Labor Agreement or Project Stabilization Agreement?
Wilma Chan: I think there are a lot of benefits to a PLA that you in the building trades know but the public may not know—first of all it does create job opportunities. Our agreement creates job opportunities for disadvantaged populations, including foster youth, homeless people, and veterans who wouldn't have the opportunity to be trained for a decent paying job in this economic environment without it.
Also, people may not realize that because you have an agreement in advance, it creates efficiencies for the projects, so that the work is done on time and on budget. They won't be stopped by labor disputes. We also did a lot of negotiations to make sure the PLA also preserves our local hiring program.
It creates labor peace, it's efficient and it creates jobs, so I think it was an important step for the County.
Journeyman: I have noticed that some of the affordable housing projects in Alameda County are being built with non-union subcontractors or non-union workers. What can the County do to support or be involved in funding affordable housing projects now that redevelopment is gone? What role can the Supervisors have in ensuring that affordable housing developments are built with union labor, or at least with prevailing wage requirements?
Wilma Chan: This is very relevant question. We have been meeting with a lot of housing advocates about how to build affordable housing since the loss of redevelopment. We have had several discussions. We do have a project coming up in San Lorenzo—an affordable senior housing project through Mercy Senior Housing—and a couple of others in the unincorporated parts of the county.
We set aside money when redevelopment agencies were dissolved by the state in the budget a year and a half ago. I put forward a resolution that we would finish a list of projects that were in the pipeline for redevelopment, that had been vetted in the community for over five years. We agreed to set aside $18 million, $90 million over five years for the projects. A number of them are housing projects; so we do have some funding for those.
I think going forward, we just started having discussions about what we are going to do about money coming back to the county now that redevelopment is gone and the agencies are being dissolved. We haven't reached a conclusion yet, but I think there is strong support on the Board to set aside funding for affordable housing in the future.
We have never had a problem in our County with having prevailing wages on the affordable housing projects. Now going forward, all of these projects will fall under the Project Labor Agreement unless they are under $1 million.
Journeyman: You have been involved in saving the hospital there in San Leandro. Hospital construction has been one of the things that has kept building trades workers employed over the past few years, for example with the seismic retrofits. Are there other hospital or other projects coming up that will create jobs for building trades?
Wilma Chan: The County has an annual capital budget of about $1.2 billion, so it is a sizable amount. Other projects coming up besides the San Lorenzo library include the Dublin Courthouse, and there will be other projects. In terms of hospital construction, for our main hospital at Highland, we had good negotiations with the building trades, but it did not fall under a PLA. I wasn't on the Board at that time; they couldn't complete that. In my district, Alameda Hospital will go through a major renovation because they are not earthquake compliant. And San Leandro hospital is earthquake complaint but there are going to be some construction opportunities there because they have to do some upgrades and they are going to have to convert their fourth floor to be a rehabilitation center. So there are going to be more opportunities in hospital construction.
Journeyman: Regarding funding transportation improvements, Measure B lost by a narrow margin last year. Is there an effort to put that on the ballot again next year or in two years?
Wilma Chan: Yes. Transportation advocates are meeting to discuss putting it on the ballot for the fall of 2014 or after that. There's been some analysis about running a strong campaign and about some of the issues that may have prohibited voters from voting for it. There was an authorizing bill in Sacramento allowing us to go forward with putting the measure on the ballot and that authorization was renewed, so we will have another chance.
Journeyman: Anything else you'd like to add?
Wilma Chan: I think the negotiations [for the PLA] with the Trades was very positive. Both sides gave a little. I'm really glad we got it done. It's been a long time coming to get the PLA.
– Paul Burton
To sign up for Supervisor Chan's e-mail newsletter, go to her website at: http://www.acgov.org/board/district3/