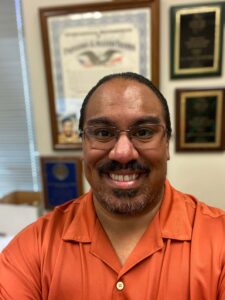 I was born April 27, 1977 to parents Miguel and Maria Calderon. Son to immigrants from El Salvador my sister and I were born and raised in the Mission District of San Francisco. As I grew old enough to work, my parents had slowly migrated to the Peninsula. Where my first job was paper boy for the Chronicle
paper. At an early age the example my father exemplified was that you received an honest day's pay for an honest day's work. I learned to earn at an early age thus forwarding to the family business as a lighting maintenance technician for my father's thirty plus year company formerly known as Omega Lighting. After seven years I decided to pursue a career closer to the ground and made the decision in November 1999 to join Carpet, Linoleum, Soft Tile Workers Local Union 12. After completing my four year apprenticeship, I established myself in the industry by working for several signatory contractors throughout the Bay Area. In April 2007 I was hired as an Organizer for District Council 16 International Union of Painters and Allied Trades. Four in a half years later I was transitioned into a Business
Representative for the East Bay Region. Thank you to all the mentors and past leaders for their knowledge, and shared experience. After six years in the position just two years ago I was promoted as DC 16's East Bay Regional Director representing Alameda, Contra Costa, and Napa Solano Counties. My office is currently located in the City of San Leandro California with our headquarters in Livermore California. The IUPAT represents internationally over 10,000 members within the finished crafts. Our jurisdiction includes Northern California through Northern Nevada Las Vegas. The finishing trades includes Painters, Drywall Finishers, Architectural Metal and Glass Workers, Glaziers, Resilient Floor Covering, and Soft Tile Layers, Auto Marine and Specialty Painters, Highway Striping, Synthetic Turf,
Industrial Bridge Painters, Sign, Pictorial & Display Painters, and Varnish and Lacquer Makers.